Document management captures all documents and information, bringing them into a managed environment. This includes both electronic and paper documents, not just those created internally but also those received from external sources, which are then treated in a unified way. It creates a single start point when searching for information, making documents easily accessible and quickly retrievable.

Benefits of Document management

The obvious benefit is that information can be retrieved and distributed quickly and efficiently; most companies who use document management systems claim significant productivity benefits. Also whereas a paper document is in one location and can generally only be viewed by one person at a time, the electronic equivalent can be made available worldwide to any number of individuals.

Once the information has been captured electronically, the physical documents can either be eliminated totally, or archived off site, hugely reducing storage space and costs. Moreover peace of mind comes from the knowledge that the electronic data is totally secure, and not prone to deterioration or accidental damage.

Document management software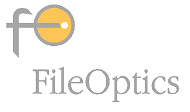 FileOptics is a powerful, integrated archive management and retrieval tool incorporating COLD (Computer Output to Laser Disk) and image technology for managing electronic reports, print spool files, and scanned images. It can easily process hundreds of millions of documents, and so is a natural choice for mission-critical situations where high volume archiving is required. FileOptics has been installed worldwide in a range of industry sectors including utilities, banking, government, shipping and freight.

FileOptics is used in organisations wanting high volume data archiving, whether from mainframe systems or from high speed scanning centres. Documents that previously took hours or even days to be retrieved can now be located and accessed in seconds.

With solid architecture and flexible integration with Oracle and SQL Server, FileOptics is a truly viable solution to long-term document storage needs.